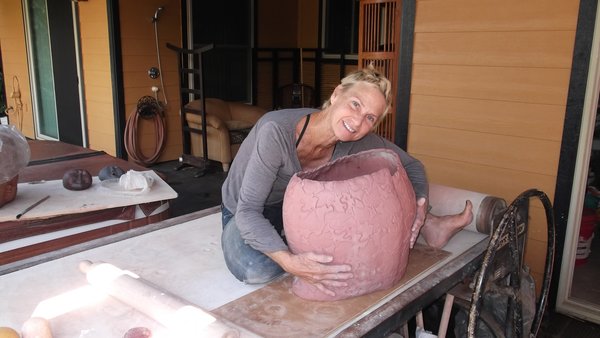 Playing and working in my father's studio, I have literally grown up with clay. Although my early introduction was functional wheel thrown pottery, currently I am exploring handbuilt sculptures, vessels and wall hangings.
My work reflects both my love for the simple beauty of Asian design and my fascination with form. I love the idea of simple decoration on a graceful organic form. Finding tension between these ideas continues to intrigue and challenge me.
I find the process of working with clay meditative: in part intentional, in part open to something greater flowing through. Once we can nurture harmony and peace within ourselves then we can contribute towards this awareness in others. Artists can play an important role in this area. A piece of art work can touch the core of people's heart, acting as a catalyst or a closest friend to have soul conversation. If this happens in my work, I will be communicating with people through my work, sharing my inner experiences. I would like to continue creating clay sculputre with this kind of consciousness so I can contribute to peace in my small yet unique personal way.
"Lokah Samasta Sukhino Bhavantu."
(May all beings everwhere be happy and free, and may the thoughts, words, and actions of my own life contribute in some way to that happiness and to that freedom for all.)